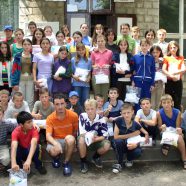 Actually, we consider Fairhaven to be three ministries.
First, Fairhaven is a Tribute to God's faithfulness.
Second, a ministry to try to provide a stable, home-like atmosphere for children who come from broken homes and other environments in which their lives are often shattered. To provide a safe and secure place from the storms of life they often face.
Read more...
Third, a ministry to others.  We have had the privilege of helping others here in America, a few other countries, as well as a full-time ministry in Romania.
We welcome all people to visit the Home and see the miracles that God has performed and is performing… to know that God is a faithful God and can be trusted to provide for His children… as he has promised.