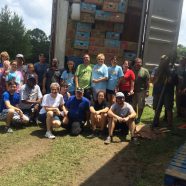 Dear Friends,
It is my prayer that letter finds all of you well. Besides the normal viruses and colds that go around, we are doing well.
I have, in the past few days, been contacted by people who are working in both Florida and  N. Carolina. It seems that the needs are overwhelming in many places but I was contacted regarding winter clothing and coats. So, I decided to do what we have done in the past and just put the word out and let God do the rest.
Those who have contacted me are also very concerned about the children in these areas and whether or not they will have gifts at Christmas. Therefore, we will also be collecting new toys, etc., and will see that those are delivered also. Attached is a flyer I made up re these needs in case any of you would like to post it. Also, on the flyer are drop off points if you happen to be in this area.
It is my hope, that as we come into this Thanksgiving season, we will really take time to reflect on all we have to be thankful for. If we are honest, we could never name all of the blessings which the Lord has bestowed upon us. However, all too often, we take these blessings for granted.
Praying you all have a Happy Thanksgiving.
In His Service,
Johnny
"For I was hungry and you gave me food,
I was thirsty and you gave me drink,
I was a stranger and you welcomed Me…"
Mt. 25:35
A THANKSGIVING PRAYER,
By Samuel F. Pugh
Oh, God, when I have food, help me to remember the hungry;
When I have work, help me to remember the jobless;
When I have a warm home, help me to remember the homeless;
When I am without pain, help me to remember those who suffer;
And remembering, help me to destroy my complacency and bestir my compassion.
Make me concerned enough to help, by word and deed, those who cry out for what we take for granted.
And having done what we can, let us sit down and thoroughly
enjoy our many blessings. 
Amen and Amen.
……………………………………………………………………………………………………………………………..
       URGENT NEEDS FOR N. CAROLINA & FLORIDA HURRICANE VICTIMS
     We have recently been contacted by people on the ground, working in both North Carolina and  Florida. They have informed us of a great need for WINTER   CLOTHES AND COATS.  Therefore, we are putting out the word to inform people of these needs in case they would like to contribute.
     One more thing that those helping are concerned about are the children and whether or  not many of them will receive gifts for Christmas. Therefore, we will also be collecting NEW TOYS, etc. which will be given out at Christmas.  
        Local drop off places will include:
         Fairhaven Ministry, 21066 Fairhaven Road, Covington, La. 70435 (also shipping      address)
        New Zion Baptist Church, 17387 New Zion Church Road, Covington, La. 70435
        Noel Maestri Flooring, 105 W. 31st Avenue, Covington, La. 70433
        The Giggling Gator Repeat Boutique
        813 Florida Street, Suite A
        Mandeville, La. 70448
      Thank you, and God bless,
      Johnny Huffman