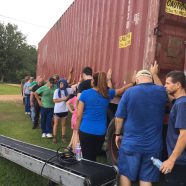 Matthew 25:37-40– 37 Then shall the righteous answer him, saying, Lord, when saw we thee an hungred, and fed thee? or thirsty, and gave thee drink?38 When saw we thee a stranger, and took thee in? or naked, and clothed thee?39 Or when saw we thee sick, or in prison, and came unto thee?40 And the King shall answer and say unto them, Verily I say unto you, Inasmuch as ye have done it unto one of the least of these my brethren, ye have done it unto me.
Dear Friends,
We hope this finds all of you doing well. We are all well and thankful for that.
I am not being critical, or judging anyone, but it is a fact that we all often get so caught up in our own problems that we never notice some of the things going on around us. It is amazing, and also disheartening, to know of so many right in our communities who have to make the decision to purchase their medications or to purchase food. There are so many needs around us, yet we are most blessed country in the history of the world. We are always thankful when the Lord allows us the privilege in helping those around us.
We now have the opportunity to help again in the little country of Transnistria—which I am sure that very few, if any of you, have ever heard of. It is in Eastern Europe and I am attaching a list of the needs for the ministry there. The following is a description of the ministry which was written by my friend, Shirley Gremyachev, director of Universal Aid Society in Vancouver, B.C., Canada. She has worked with Mark Fashevsky, and helped him, for many years.
"Mark finds Christian foster homes for orphans. It is a new concept for sure in this very pro Soviet region of Transnistria where he lives and works. He raises money through sponsors to help support these foster families as the government does not do that. He also rescues the orphans that leave the orphanage at 16 years of age. They are truly unprepared for the world and most end up being taken advantage of (often by those in human trafficking). Mark has group homes for the boys and apartments for the girls to share and are part of a Christian program that teaches them life skills while they also finish their education enabling them to become self supporting in a proper job. Mark also has many small stores which provide jobs to 300 people that would have otherwise been unemployed . I so wish he could come and speak to your precious volunteers. As well he helps via relief aid state orphanages, mental institutions and hospitals. I have visited this region and witnessed first hand the serious needs and how Mark has dedicated his life to improve it. He is so humble and never promotes himself. We have had him stay many times in our home over the years. Thank you so much for helping him to help the helpless. This region which is a breakaway republic of Moldova is not recognized by any other country although it has its own money, own flag etc."
Without being there, you can't appreciate all of the effort it takes to accomplish what this ministry does in this country. Should any of you like to help with the needs for this shipment, it would be appreciated more than you can imagine.
Again, thank you all for your continued prayers and support.
In His Service,
Johnny
Johnny Huffman
Fairhaven Ministry of Faith, Hope, & Love
21066 Fairhaven Road
Covington, La. 70435
Ph: 985-892-1134
Fax: 985-892-1385
Cell: 985-264-5052
Email: johnny@fairhavenministry.com
Web: hopeforothers.org
Love is God's will in action.
……………………………………………………………………………
NEEDS LIST FOR MINISTRY IN TRANSNISTRIA
If you can help with the following this would be greatly appreciated:
– adult and baby diapers
– plastic toys
– stationary
– hygiene
– basic first aid supplies
– camping supplies
– kitchen utensils
– sheets and bedding (it has to be new as the used bedding is banned) (can send used blankets if in very good condition)
– used clothes and shoes in good condition
Thank you!
Phillipians 2:4,5—Look not every man on his own things, but every man on the things of others. Let this mind be in you which was also in Christ Jesus.