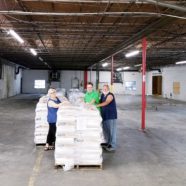 Luke 6: 38–Give, and it shall be given unto you; good measure, pressed down, and shaken together, and running over, shall men give into your bosom. For with the same measure that ye mete withal it shall be measured to you again.
Luke 12:28–If then God so clothe the grass, which is to day in the field, and to morrow is cast into the oven; how much more will he clothe you, O ye of little faith?
Dear Friends,
As usual, it has been very busy since my last letter to you all.
First of all, I want to thank you for your continued prayers and support of Fairhaven. Sissie and I are always amazed at the how the Lord meets not only the needs at Fairhaven, but also makes it possible to share with others not only locally, but in many other countries.
Since my last letter, the kids went to Florida for a few days on vacation, went to Bible camps, VBS, and were involved in several other things going on this summer. Also, the Lord used some of you to help with shipping 2 more containers—one to Malawi and one to Belarus. Not only that, but he is allowing us the privilege of helping with some medical supplies to Honduras in the near future.
I want to share a story with you of how the Lord worked to meet a need in Uganda.
Several months ago, the Allen family were singing in our church. While there, they shared their passion for their ministry in Uganda. I met and spoke with them and found out about the need for an oxygen concentrator for a neonatal ICU in one of the hospitals there. I shared that need in one of my update letters and within a few days I had a call from a friend of mine. He told me that had it not been for an oxygen concentrator, his grandson would have probably died at a local hospital. He told me that he wanted to purchase the concentrator for the hospital in Uganda. From there, the Lord used many to make sure this need was met. In the pictures, you can see the Allens as they present the machine to Dr. Juventine, who is the founder of this hospital. One of his comments was "Wow! Think how many babies lives will be saved now!"
It is always a blessing to watch God put people/circumstances together in order that His will is accomplished.
The Lord willing, we will be loading another container from Fairhaven on Saturday, July 27th. As usual, we will have breakfast at 7:30 and start loading at 8 or so. If you can make it, we would surely appreciate your help. This load will be going to a ministry in the country of Transnistria, in Eastern Europe.
I pray the Lord's richest blessings on all of you.
In His Service,
Johnny
Johnny Huffman
Fairhaven Ministry of Faith, Hope, & Love
21066 Fairhaven Road
Covington, La. 70435
Ph: 985-892-1134
Fax: 985-892-1385
Cell: 985-264-5052
Email: johnny@fairhavenministry.com
Web: hopeforothers.org
Love is God's will in action.
Phillipians 2:4,5—Look not every man on his own things, but every man on the things of others. Let this mind be in you which was also in Christ Jesus.