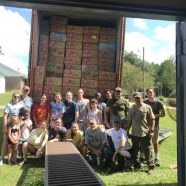 Ephesians 2:10—For we are his workmanship, created in Christ Jesus unto good works, which God hath before ordained that we should walk in them.
Ephesians 5:15-16–15 See then that ye walk circumspectly, not as fools, but as wise,16 Redeeming the time, because the days are evil.
Dear Friends,
Another school year started, kids going in every direction each day. Always vehicles/equipment that needs repairing. So many families/individuals with problems today. People contacting us regarding needs both locally and in other countries. Then, as you well know, there seems to be tragedy and turmoil everywhere we look today. If you do not know Jesus, it can surely keep you depressed.
However, as the verse says, "we are HIS workmanship, created in Christ Jesus unto good works…". In the middle of all that is going on today, I think that we need to keep this in forefront of our thoughts each day. We are HIS instruments and He designed us for the purpose of accomplishing His will with our lives. I think one of the most important questions we can ask ourselves today is, "Whom, or what, am I serving?" And, we need to be real honest about the answer.
As you can see from the pictures, the Lord continues to direct and bless—through using so many of you. The containers have arrived in Malawi, Africa, and in Belarus. The container should be arriving in Transnistria within the next week or so. I have to tell you that whether serving here, or in other countries, I never cease to amazed at how the Lord always sends the people necessary to make it all happen. He is always faithful!
Also, in one of the last letters you saw the oxygen generator being delivered to the hospital in Uganda. In this picture, you see it being used to enable a child to breathe. Do you ever just take a moment to thank God for all of the blessings we take for granted? I hope you do. At this time, we are trying to find an ultrasound machine for a clinic on the island of Roatan, Honduras. Please be praying with us regarding this need.
I have also attached a story written by Emmy Grace Osoinach. It can be found in the "News and Stories" folder. Her parents, along with she and her brother and sister, spent about 10 years in Romania and the Lord used all of them greatly there. I know you will receive a blessing as you read this short story.
I also hope that you are praying for our country. I think that if there has ever been a time in the history of our country, this is the time when we need to "walk circumspectly , not as fools, but as wise," it is today.
Thank you again for your continued prayers and support. We pray the Lord's richest blessings on you.
In His Service,
Johnny
Johnny Huffman
Fairhaven Ministry of Faith, Hope, & Love
21066 Fairhaven Road
Covington, La. 70435
Ph: 985-892-1134
Fax: 985-892-1385
Cell: 985-264-5052
Email: johnny@fairhavenministry.com
Web: hopeforothers.org
Love is God's will in action.
Phillipians 2:4,5—Look not every man on his own things, but every man on the things of others. Let this mind be in you which was also in Christ Jesus.