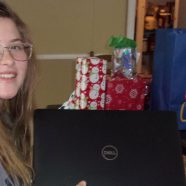 God is our refuge and strength, an ever-present help in trouble. Therefore we will not fear, though the earth give way and the mountains fall into the heart of the sea, though its waters roar and foam and the mountains quake with their surging.
—Psalm 46:1–3
Dear Friends,
As I was reading news articles from all over the world this morning, I was thinking of how wonderful it is know that our Lord is complete control of every situation, whether it is in our life as individuals, in our home, community, city, state, country, or halfway around the world. It is good to frequently remind ourselves of this.
We are all well and the kids, because of so many of you, had a great Christmas. Thank you so much!
As of the first Sunday in January, Fairhaven will have been in operation for 54 years. It is testament to our Lord's faithfulness.
At this time, the Lord willing, Leslie will graduate from SLU this spring with a degree in Criminal Justice. Allie will be in her second semester in her sophomore year at Mississippi College, and Emily will be starting at SLU. Jacob isn't sure yet but may be starting trade school.
In this past year, the Lord has allowed us the privilege of continuing to help locally almost every day with food and medical supplies. He has also allowed us to ship containers to Malawi, Belarus, Transnistria, and Togo, Africa. Besides that, we have been help a little with medical supplies to Honduras. He has also made it possible for us to obtain an Oxygen Generator for a hospital in Uganda. At this time, we are working on getting Ultrasound Machines into both Honduras and Uganda. The Lord has blessed us with the opportunities and means to minister in so many ways and places that I could not start to list them all here. We praise Him for touching hearts and making it all possible.
Now, what I want to remind you of is that it is not us, here at Fairhaven, doing this. It is the Lord, touching the hearts of so many of you, and then your responding to His prompting, that makes all of this possible. He is working through you to touch lives of the children not only here, but of children and adults all over the world. Fairhaven is only a conduit of His love and blessings.
Thank you all for your faithfulness in praying for us and helping in the ministering to others who are often in such great need. Please continue to keep us in your prayers.
We pray that all of you will have a Blessed and Happy New Year.
In His Service,
Johnny
Johnny Huffman
Fairhaven Ministry of Faith, Hope, & Love
21066 Fairhaven Road
Covington, La. 70435
Ph: 985-892-1134
Fax: 985-892-1385
Cell: 985-264-5052
Email: johnny@fairhavenministry.com
Web: hopeforothers.org
Love is God's will in action.
Phillipians 2:4,5—Look not every man on his own things, but every man on the things of others. Let this mind be in you which was also in Christ Jesus.