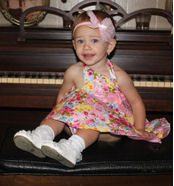 1 John 4:11– Beloved, if God so loved us, we ought also to love one another.
Dear Friends,   It is our prayer that this letter finds all of you well.   As usual, things are going non-stop around here. The kids have cleaned the pool and, believe it or not, have already been in it! And, yes, some came out faster than they went in! The water is still very cool. They are also on 7 Little League teams, which keeps Sissie very busy. We are very thankful for coaches and other parents who help us with the transportation to practices and games.   In other areas, the Lord has allowed us to send food to a ministry in Arkansas and we have a load  ready for a ministry in the Appalacians. We recently helped to finish loading a container for Romania which is being shipped from Baton Rouge. We are now helping to ship 20,000 lbs of rice to Molodova.  The Lord also continues to allow us the privilege of helping us to meet needs locally each day.   I can't start to name all of you who help to make all of this possible. I thank the Lord for all of you who pray for us, support the ministry financially, come here and give of your valuable time to help us, you who donate the supplies which are such a blessing to those in need,  and those of you who deliver the supplies locally, as well as to other areas in US. Without all of  you, it simply would not happen. Thank you so very much for allowing the Lord to use you to minister His unconditional love to others.   May the Lord continue to bless you all.
In His Service, Johnny, Sissie, Sweetie, and Kids.