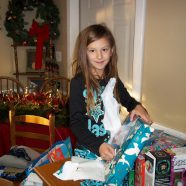 1 Corinthians 3:9– For we are labourers together with God: ye are God's husbandry, ye are God's building.
Dear Friends,
First of all, I want to thank all of you who shared your Christmas with the children, and for helping to make it so special for them. I always say that the pictures do not do come close to describing Christmas morning here, and that is so true.
As we go through the holidays, I am always reminding the children that they are so blessed because of the sacrifices of others. We are fully aware that any and all things that we are able to have or do here are because of your prayers, support, and sacrifices, as the Lord touches hearts and people respond. Thank you!!
Second, the container for Romania cleared customs in Arad last Thursday (19th) and arrived in plenty of time to distribute the gifts there for Christmas. I am hoping to soon have pictures to share with you of children and the elderly as they received the Christmas Boxes and Joy Bags that so many of you made possible.  Due to a new law, the container was held up in Bremerhaven, Germany for a couple of days, but the container still arrived in time. They now xray all relief containers entering Europe there due to problems they have with smuggling. This new law adds about $500 to the cost of shipping for we have to pay for the xray.
Third, we now have 20,000 lbs for rice, 20,000 lbs of beans, and over 2 tons of cooking oil ready for shipping to Haiti. Plus, because of so many of you, we also have all the shipping costs covered. The Lord willing, we will ship about January 15th or so. The rice and beans should arrive from Dallas about the 9th. Thanks to all of you who the Lord used to make all of this possible for the people in Haiti. Isn't this a great way for the Lord to allow us all to start a new year?
Again, thank you all for your prayers and support. It is our prayer that each of you will have a very Blessed and Happy New Year.
In His Service,
Johnny, Sissie, Jackie, and Kids
Johnny Huffman
21066 Fairhaven Rd.
Covington, La. 70435
Ph:  985-892-1134
Fax: 985-892-1385
Cell: 985-264-5052
Email: huffman8@yahoo.com
Web: www.hopeforothers.org
Phillipians 2:4,5–Look not every man on his own things, but every man also on the things of others. Let this mind be in you, which was also in Christ Jesus